Become a Volunteer at Radio Redhill
Radio Redhill welcomes applications from people who are interested in helping us to provide music and entertainment for the patients and staff of the East Surrey Hospital. We need people who are interested in broadcasting, no experience is necessary as training will be provided. Broadcasters are encouraged to spend time on the wards collecting requests. If you don't fancy being behind the microphone but would still like to join us we also need people with an interest in request collecting, fundraising, engineering and administration. You can apply to join us further down this page.
A Message to Prospective Members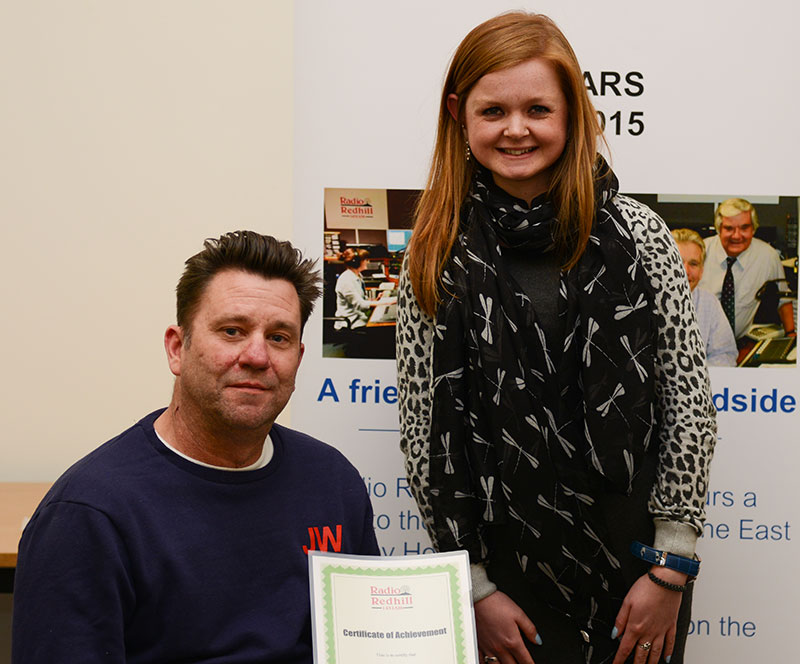 Here at Radio Redhill we value the training and development of our members. We want members to get the most out of their experience at the station, resulting in a better quality of service for the patients and staff of East Surrey Hospital.
The training programme teaches you how to use the equipment here at the station and also allows you to develop a presentation style. Various certificates are awarded by the station (pictured, Peter Byrne receiving a Certificate of Achievement on completion of his training course).  We want you to succeed and so we will give you all the help we can.
Volunteering is something to be proud of and time spent here will make a difference to both the patients and the staff of the hospital. However, we hope that you will get something in return, whether it is the fulfillment of helping others, developing a love of radio or even making some lifelong friends at the station.
The training programme lasts the length of eight sessions. You will learn how a radio station operates, how to present clearly, how to use equipment, edit audio, broadcast with classical music and much more. The quality of output of Radio Redhill is of the utmost importance in what we do; however, it is essential that, as a member, you have fun and enjoy yourself. Whether as a listener or a future member of Radio Redhill, I hope you will enjoy your time with the station.
Apply to join.
There is a one-off joining fee of £10 and an annual membership subscription, which is currently £17. However, students pay a reduced rate of £10.50, and OAPs and request collectors pay a reduced rate of £8.50. A joint subscription for two members at the same address is £25.50.
If you think you could help the award-winning Radio Redhill to maintain its high standards, please contact the station's Chairman, Nigel Gray, using the from below. Please take the opportunity to tell us a bit about yourself as well as providing the requested contact information.