Helping a Worthwhile Cause
Radio Redhill is a charity which is funded entirely by donations and sponsorship. Fundraising is never easy and we are always grateful for any monies received.
If you were interested in supporting us, there are a number of ways in which others have helped us which you might like to consider (see below).  Whichever way you choose, you have our word that every pound we receive will be wisely spent on maintaining and improving our service.
"To keep a lamp burning, we have to keep putting oil in it." (Mother Theresa)
Donations
We receive a number of donations from patients (or their relatives) who have listened to us during a stay at the East Surrey Hospital. These donations are always wonderful for us to receive as evidence that we are providing a useful and enjoyable service.
Donations also come in the form of others raising money on our behalf through a sponsored event or completing an extraordinary challenge such as climbing Mt Kilimanjaro.  If you are doing a large event, let us know and we can also provide you with some reciprocal support promoting your event/challenge on the airwaves.  
We appreciate you thinking of us and if there is anything we can do to support you, supporting us….
Sponsor a Programme
Would you like to have your name or brand seen and heard at the Hospital?  Or perhaps you might know of a company, business or organisation who would?  Get in touch…
For as little as £5.00 per week, you can sponsor one of our programmes and have your name broadcast to your potential customers.  And you will be supporting a very worthwhile charity at the same time!  
If you would like to know more, please get in touch.
Patients' Guide Advertising
We produce an annual Patients' Guide which is circulated around the hospital to patients and staff as well as being available externally.  It is free of charge and is made possible by advertising within the Guide, as well as raising money for Radio Redhill.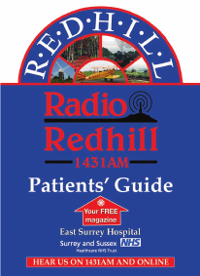 Advertisers in the Guide benefit from some targeted marketing as well as supporting a worthwhile charity, Radio Redhill.  Rates are very reasonable for the number of potential readers.  If you are interested in knowing more, please do get in touch.
Browse the current guide here.