A Message from the Programme Controller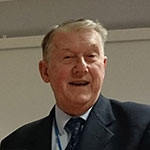 "Radio Redhill broadcasts 24 hours a day, seven days a week. We transmit our programmes on the bedside units, on 100.4FM and online to the patients and staff.
We cater for a wide range of musical tastes, including country, classical, easy listening and those golden oldies from the 50s, 60s and 70s. We also play the latest melodic pop music and keep our listeners informed about all the voluntary services available throughout the hospital.
We broadcast local news Monday to Friday, starting in the Breakfast Show at 6.30, then every two hours on the half hour until 4.30pm.
Radio Redhill often features local events in our Sunday Colour Supplement magazine programme on Sunday afternoons and on our award-winning programme 'Out and About', presented by Katie Child.
We have been very successful in entering the Hospital Radio Awards, winning gold, silver and being consistently highly placed, competing with hundreds of hospital radio stations from all over the country.
The bedrock of our programmes is the daily Your Requests. From Monday to Saturday between 8.30pm and 10pm and on Sunday mornings between 10am and midday, we play the music that our listeners in the East Surrey Hospital have asked to hear.
The members of Radio Redhill work hard to bring these programmes to you, and we hope that you enjoy at least some of them. Full details of our shows are available in our monthly programme guide, delivered by our request collectors as they go around the wards."  Nigel Gray
Award-Winning 'Out & About'
"The haunting sounds of a Russian choir echoing around the hills of North Wales during the Llangollen International Festival in 1992 was an experience I felt I should share with listeners to Radio Redhill – so Out & About was born.
The programme seeks to highlight the interests, talents and creativity of people from all walks of life and provide something different for patients during their stay in hospital.
What do I mean by something different? Well, we have admired the bravery of the crew of the Shoreham Lifeboat, collapsed in mirth in the presence of impressionist Rory Bremner, witnessed the enthusiasm of BBC Antiques Roadshow expert David Battie, gained an insight into the world of documentary film making with the charming Joanna Lumley and have been inspired by the recollections of centenarian Dick Barron who, as a British Veteran of World War I, was awarded the Chevallier Legion D'Honeur by the French government.
A veteran of a different kind is the London to Brighton Veteran Car run when motor racing champion Nigel Mansell revealed how difficult it was to slow down in these ancient vehicles. His thoughts were confirmed by fellow driver Prince Michael of Kent.
As if to keep it in the family, His Royal Highness The Prince Edward came on to the programme during his visit to Richard Stilgoe's Orpheus Centre in Godstone where the arts become a meaningful experience for disabled students.
Out & About is proud to have been the recipient of BT Awards in the Best Non-Music Programme category, in association with the Hospital Broadcasting Association.
How strange that it should have all started with that Russian choir!"  Irwyn Davies
After nearly thirty years of Out and About, Irwyn handed over the presenting duties to Katie Child in 2021 who carries on this award winning programme.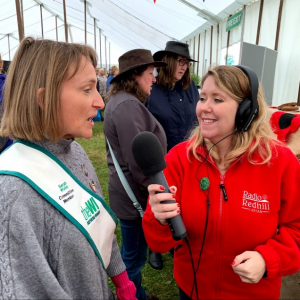 You can listen to previous programmes via Listen Again
Celebrity Visits
We should also mention that we are pleased to welcome well-known personalities, both national and local, to the microphones of Radio Redhill. Over recent years we have been delighted to speak to such personalities as Dame Judi Dench, Nicholas Owen, Eamonn Holmes, Chris Evans, Alex Jones, Ken Bruce and many others.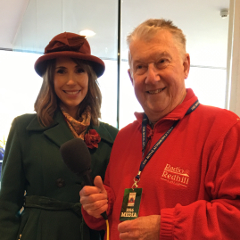 One welcome visitor to East Surrey Hospital who is not only well-known nationally but was also a local resident, was singer Katie Melua (pictured below).
Esther Rantzen with Irwyn Davies at the Edenbridge & Oxted Agricultural Show.