TESS LEWSEY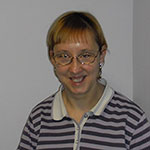 Tess joined Radio Redhill in 2008. However, she had previous hospital radio experience at Radio Addenbrooke's in Cambridge. Tess is originally from Cambridge and moved to Redhill after completing her Radio Broadcasting course in 2004. Before that, Tess worked as a qualified nursery nurse and nanny looking after young children.
She has had an interest in radio since her mid-teens and currently presents Tess Lewsey's Star Stories and Your Wednesday Requests.
JOIN US!
We welcome applications for membership of Radio Redhill  from people who are prepared to make a regular commitment of their time to further the aims of hospital broadcasting, i.e to benefit the patients and staff of the East Surrey Hospital in Redhill.