SIAN WALLIS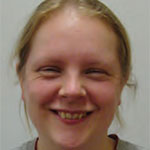 Sian was an active member of her university radio station where she was sports editor amongst other jobs. She is enjoying being back on the airwaves with Radio Redhill.
Her other hobbies include the theatre and cinema and supporting Tottenham Hotspur. She also spends a lot of time with her two young nephews and is a Beaver leader at the 14th Reigate. Sian was Head of Fund-Raising from 2014 to 2018, and is now Head of Public Relations. She was the recipient a Mayor's Volunteer Award in July 2018.
JOIN US!
We welcome applications for membership of Radio Redhill  from people who are prepared to make a regular commitment of their time to further the aims of hospital broadcasting, i.e to benefit the patients and staff of the East Surrey Hospital in Redhill.