NIGEL GRAY, CHAIR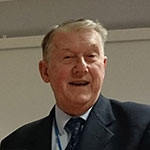 Nigel's varied interests include being a guard on the famous Ffestiniog & Welsh Highland Railways in North Wales, and exploring the country's canal network on his narrow-boat 'Mariah'.
Now retired, he was a manager for a coach company based at Gatwick. Nigel has been Chairman of Radio Redhill for more years than he cares to remember and lives in Reigate.
JOIN US!
We welcome applications for membership of Radio Redhill from people who are prepared to make a regular commitment of their time to further the aims of hospital broadcasting, i.e to benefit the patients and staff of the East Surrey Hospital in Redhill.