NICK HUTCHINGS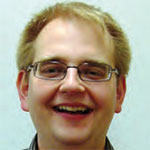 Nick lives in Redhill with his wife Kate. When not on air he works in the IT department of a local insurance company. In his spare time, he enjoys pub quizzes and strumming the guitar tunelessly, often to the amusement of his young children.
He is also responsible for looking after the station's finances as Radio Redhill Treasurer.
JOIN US!
We welcome applications for membership of Radio Redhill from people who are prepared to make a regular commitment of their time to further the aims of hospital broadcasting, i.e to benefit the patients and staff of the East Surrey Hospital in Redhill.