MEL ELLIS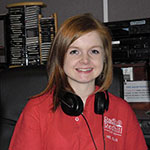 Mel joined Radio Redhill in January 2008 and a year later became an Executive Producer, in charge of the evening's programmes.
Since then, Mel has joined the station's Executive Committee and the Programming Committee. Mel was Vice-Chair between 2013 and 2016 and has also taken on the role of Head of Training.
When not volunteering at Radio Redhill, she enjoys discovering new bands and is always listening to music. She also enjoys going to local gigs.
JOIN US!
We welcome applications for membership of Radio Redhill from people who are prepared to make a regular commitment of their time to further the aims of hospital broadcasting, i.e to benefit the patients and staff of the East Surrey Hospital in Redhill.