JACK PARKER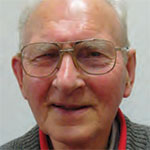 Locally born, Jack was a seaman in the Royal Navy.
Since his retirement, Jack has helped collect money for the Lifeboat appeal. He also does voluntary work at the Children's Society charity shop in Reigate and the Centenary House Day Centre in Redhill. A regular member of Radio Redhill's public address 'A team'.
JOIN US!
We welcome applications for membership of Radio Redhill from people who are prepared to make a regular commitment of their time to further the aims of hospital broadcasting, i.e to benefit the patients and staff of the East Surrey Hospital in Redhill.