GARY SHILLINGFORD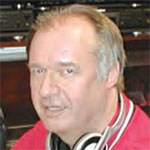 Gary joined Radio Redhill in 2001. He lives in Horsham and has spent most of his working life employed in the public sector.
Away from work and Radio Redhill, his interests are golf and running fundraising quiz evenings for a host of charities. 'Entertainment' and 'Education' are words which quite often feature in his programmes.
JOIN US!
We welcome applications for membership of Radio Redhill from people who are prepared to make a regular commitment of their time to further the aims of hospital broadcasting, i.e to benefit the patients and staff of the East Surrey Hospital in Redhill.