GARY MCCULLOCH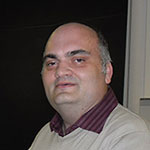 You can hear Gary on Tuesday evenings at 7pm.
We often find Gary wandering around the studio or record library mumbling to himself 'What was the year?'!
JOIN US!
We welcome applications for membership of Radio Redhill from people who are prepared to make a regular commitment of their time to further the aims of hospital broadcasting, i.e to benefit the patients and staff of the East Surrey Hospital in Redhill.