DAVE KING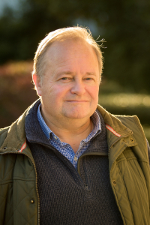 David (or Dave) joined Radio Redhill in 1987 and has been involved as Librarian, in fundraising and was the station's Programme Controller for around five years. During the week, Dave writes motoring features for newspapers and websites around the country. He's also building a company with his wife Hiulam with the aim of providing bespoke tours and experiences for Chinese visitors to the UK.
Dave's interests include broadcasting, ornithology, motorsport, the motor and aerospace industries and travel. Dave has travelled extensively through Australia and New Zealand and 12 years after his first visit, he returned in 2014 to the land down under with his wife Hiulam.
JOIN US!
We welcome applications for membership of Radio Redhill from people who are prepared to make a regular commitment of their time to further the aims of hospital broadcasting, i.e to benefit the patients and staff of the East Surrey Hospital in Redhill.